---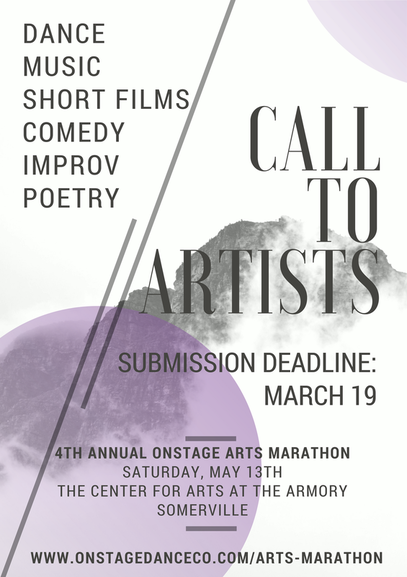 Submissions are now being accepted for the Fourth Annual OnStage Arts
Marathon. Held this year on
May 13, 2017
, at the Center for Arts at the
Armory, this annual event brings together artists from the
Somerville, Cambridge, and Greater Boston area to perform, celebrate, and
promote our many talents.
Open to artists and performers of all types, we are seeking dancers,
improv and stand-up comedians, musicians, spoken word artists, poets, filmmakers,
visual artists, and more to perform and exhibit at the event
. Preference will be given to Somerville-based individuals and
organizations but artists from throughout the Boston-area are encouraged to apply.
This is an 18+ event.
APPLICATION DEADLINE:
Sunday, March 19, by 10PM.
All entrants will be
notified of selection status on or before
​
March 25, 2017
.
---
---
Past Performers:
Kate Brule, Cambridge Dance Company, Sean Clarke, CONcept ARTists, Comedy Sportz, ​Dellaluna Dance, Dylan Duncan, Evolve Dynamicz, Kathryn Hallberg, Heather Brown Dance, Ben Higginbotham, ​Iconic Movement, Improv Jones Boston, Kinetic Synergy Dance Company, Kindra Lansburg, Emily Lavadiere, Nazar Bollywood Dance Troupe, The Okay Win,
​OnStage Dance Company, OnStage | Repertory, Ryan Sweezey, David Thomas,
​Total Feltdown,
Dylan Uscher, Christa Weiss, Anne Whitehead and Dancers, George Woods, Heather Woods