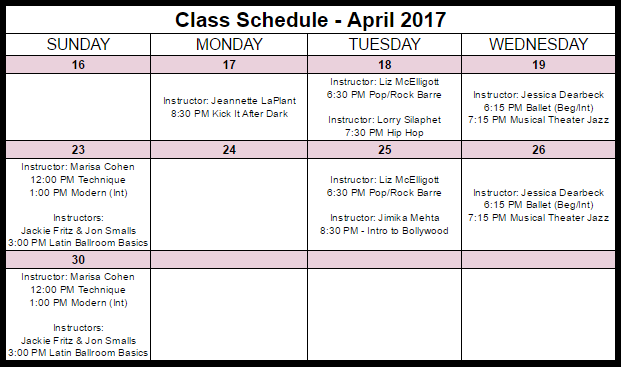 ---
UPCOMING WORKSHOPS
Tuesdays with Liz McElligott
6:30 PM Pop/Rock Barre A traditional ballet barre class set to a rotating soundtrack of Top 40, pop, rock, hip hop and alternative music.
Sundays with Marisa Cohen
12:00PM Technique
Practice jumps, turns and technical elements with across-the-floor work, skill-drills, and center exercises.
1:00PM Modern
Explore modern dance technique and choreography from traditional styles to post-modern movement phrases.
Wednesdays with Jessica Dearbeck
May 3rd - 6:15PM Variations of Famous Ballets
Learn short variations from the classical ballet oeuvre. Feel free to take class en pointe or flat.
May 3rd - 7:15PM Musical Theater Tap!
Whats better than a show stopping tap number?
May 10th - 6:15PM OnStage OnBroadway
Spend an hour learning short routines from shows currently playing on Broadway!
May 17th - 6:15PM Fosse, Fosse, Fosse!
The man, the myth, the legend. Explore the classic and world-reknowned style of Bob Fosse.
May 24th - 6:15PM Cardio Tap!
This fast-paced class will sure to get your heart rate up while tapping non stop!
---

Intro to Bollywood with Jimika Mehta
Wednesday, May 10th at 7:15PM
This beginner workshop will introduce dancers to the joy of Bollywood dance, including the footwork, intricate hand movements and facial expressions that make up this increasingly popular dance style. No prior experience is necessary. Wear comfortable clothing and barefeet or dance shoes.
---
---

Latin Ballroom Basics with Jackie Fritz & Jon Smalls
Sundays at 3:00PM (May 7th & May 14th)
These introductory workshops will focus on the basics of International Latin ballroom technique. Focusing on the cha-cha style we will we be teaching proper foot placement, hip action, beginner level moves, and the basic foundations of leading and following partner work.
There are four workshops in this series, but dancers may attend just one, or more! ​No experience or partner required.
Footwear: ballroom shoes or non-slip heeled shoes are optional. Dancers may also go barefoot or wear jazz shoes.
---