OnStage Dance Company offers classes and workshops that are open to the public.
​Advanced registration is encouraged, but drop-ins are always welcome!
Click a class on the calendar below to sign up.

Class Prices:
$15 Drop In (expires 1 month after purchase)
$60 5-Class Pass (expires 3 months after purchase)
$100 10-Class Pass ​(expires 6 months after purchase)
Classes are 60 minutes unless otherwise listed.

Workshops:
Workshops range from 60-90 minutes. See posting for specific info and pricing.
​In most cases, OnStage class passes can also be used towards workshops too!

To Sign Up for a Class or Workshop:
​Click on a class/workshop on the list below and follow the prompts to purchase a drop-in pass or class card.
*Cancellation Policy: You must cancel at least 24 hours in advance to receive a credit to your account.
---
---
Upcoming Workshops:

We are always adding new Workshops & Pop-Up Classes. Please check back for the latest additions!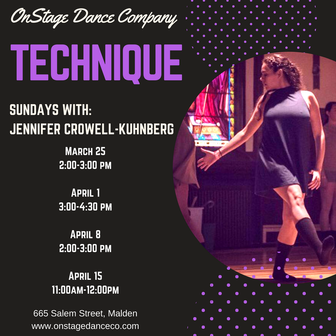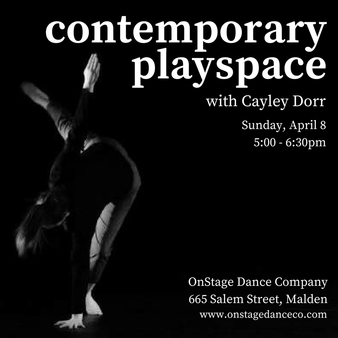 This workshop is more of a playspace for pushing boundaries, asking big (and small) questions, and celebrating the joy and rigor of dance. Through a dialogue between set technical practice and guided improvisational experiences, we will build heat, focus our awareness, and prepare the body to be available to both follow its impulses and try on new movement ideas. Class vocabulary is drawn from a range of contemporary dance forms and somatic practices, including release and flying low techniques, Bartenieff Fundamentals, and yoga. End-of-class phrasework blends expansive, loopy dancing with moments of subtlety, clarity, and precision in an effort to challenge dynamic range and encourage individuality within a choreographed framework. In short, we will dance big, sweat a lot, and have fun! (This workshop is geared toward intermediate to advanced dancers, but class is all about taking risks, making mistakes, and trying and failing gloriously, so regardless of level,
you
are welcome here!)
​
---
---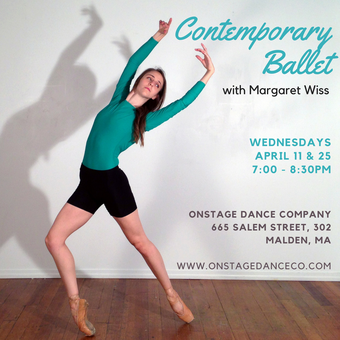 The objective of the class is to become proficient in the theoretical and technical aspects of ballet technique. As a class we will examine the science behind ballet, considering the anatomy of our own bodies and how we challenge physical laws while dancing. The class will examine the history of classical ballet and the evolution of contemporary ballet.

As a teacher, I will incorporate a somatic and contemporary approach to ballet technique. Musical phrasing will be altered, not always relying on 8 count meter. You will learn classical and contemporary variation excerpts as well as create your own combinations. Current research in dance medicine will be incorporated into specific exercises and there will be an emphasis on stretching and strengthening at the start and finish of the class. My hope for you as a student is to become more somatically aware through the investigation of your own body in space.

---
---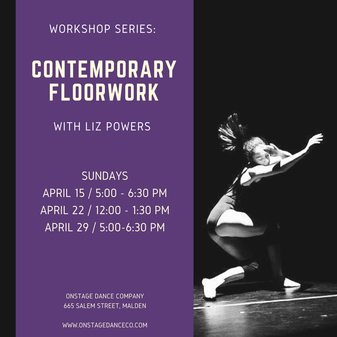 Beginning with grounding exercises, this class encourages participants to work with gravity in order to move efficiently on a low level. We will focus on traveling across the space (slides, rolls, inversions, etc.) while remaining connected to the ground. Class will culminate in phrasework that emphasizes moving quickly into and out of the floor.
This is a three-week series. Dancers can attend just one, two, or all sessions!


---
---
Join Kathryn for Dancers' Yogalates. We'll target flexibility, strength, joining breath and movement, and taking a mindful approach to it all - all things that dancers need to perform at their bests. A tighter core and looser hamstrings can lead you closer to turning and leaping like you never thought you could!

---
---
The following event is hosted by Journey Dance with Fati.
​Please contact Fati directly with any questions about this event.
This event is open to the public, with all proceeds going to the Epilepsy Foundation of New England.