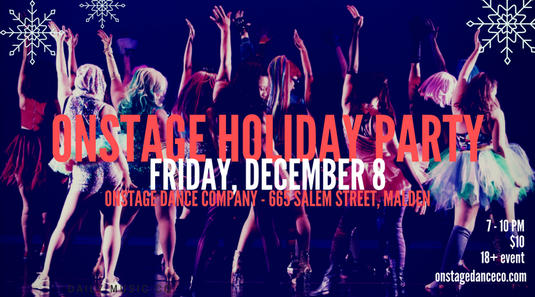 OnStage Dance Company offers classes and workshops that are open to the public.
​Advanced registration is appreciated and encouraged, but drop-ins are always welcome!
Click a class on the calendar below to sign up.
Class Prices:
$15 Drop In (expires 1 month after purchase)
$60 5-Class Pass (expires 3 months after purchase)
$100 10-Class Pass ​(expires 6 months after purchase)
Classes are 60 minutes unless otherwise listed.

Workshop Prices:
Workshop prices and length of class vary by event. See specific workshop posting for pricing details.
​In most cases, one or more OnStage class passes can be used towards workshops.
Click on a class on the calendar below to sign up!
---
Class Descriptions
Weekly Classes:
Contemporary Ballet (Level 1/2) - Mondays at 7:00 PM with Bryn Gravitt
Class will begin with a ballet barre series to warm and strengthen muscles while working on traditional technique. Students will then learn ballet choreography with a flowy and contemporary twist.

Jazz (Level 1/2) - Wednesdays at 7:00 PM with Alexandria Nunweiler
Upbeat and high-energy, jazz gets everyone on their feet! Based in classic styles codified by Jack Cole, this class brings strength, positivity, and sass into the 21st century. Class proceeds with isolations, movement across the floor, turns, and jumps, as well as original choreography each week.​

Pop Up Classes:
Modern (Level 2) with Alexandria Nunweiler
Wednesdays: November 8th, December 6th & December 20th at 8:00 PM
From Martha Graham to José Limón to Bartenieff Fundamentals, this modern class will overview some of the greatest techniques in modern history. Other techniques in fall and recovery, floor work, and improvisation will also be covered. Each week will feature original choreography and combinations rooted in technique. Come find the expression and artistry behind contemporary dance.​
New Workshops & Pop-Up Classes are added each month!
Please check back for the latest additions.

---
Upcoming Special Workshop:
Pop Up Contemporary WorkshopFriday, November 24 at 2:00pm (90 minutes)

Enjoy a post-turkey day contemporary workshop. We'll focus on musicality, movement quality, technique and dancing out the holiday stress!

$15 drop in or OnStage class pass

Jennifer Kuhnberg is the Executive Director of OnStage Dance Company. See her full bio on the Staff page.