A program for aspiring, emerging and independent choreographers ​in need of studio space and creative freedom to make new work.
---
The
[OnStage Residency]
Program is designed for independent choreographers or small dance companies who do not have their own studio space in which to create new work. If selected for the program, choreographers will receive 16 hours of free rehearsal space at OnStage Dance Company, culminating in an In-Studio Showcase that is open to the public. The informal showcase will feature a pre-event reception and a post-show Q&A with the artists and audience. (A curatorial team may also select one or more pieces to be re-staged for a formal concert at a later date.)
Each choreographer will be assigned a 2-hour time slot for eight weeks.
Choreographers may use their own dancers, or may select dancers during an Open Call Audition that will be held at OnStage.
Proposals will be accepted for any style of dance and works should be no more than 7 minutes in length.
Proposed works/ideas must be brand new and never presented in any previous showcase or performance.
There is a $10 application fee per submission. Applications will not be considered until fee is submitted.
Choreographers will be notified via email if they have been accepted into the [OnStage Residency] Program.
All questions should be directed to Jennifer Crowell-Kuhnberg via e-mail at info@onstagedanceco.com
Session V Dates
Saturday, January 13 - Residency Applications Due
Saturday, January 20 - Residency Open Call Audition for Dancers
Saturday, January 27 - 1st Day of Residency Rehearsal
Saturday, March 17 - Session V Residency Showcase
Session V - Residency Choreographers


Sarah Bjornland graduated in 2017 from the University of Rochester with a BS in Optics and a minor in Dance. While at the U of R, she had the opportunity to perform in and choreograph for a wide variety of student and faculty pieces, including those featured at ACDA and the Rochester Fringe Festival. Sarah is also interested in lighting design and during her senior year served as the Program of Dance and Movement's Production Assistant, where she was able to work with dance professionals and run lights and sound (and often still dance!) for shows. Sarah was awarded the Signey Service Award as well as the Pooka Creativity Prize for her achievements in dance. She currently works as an engineer in Wakefield and volunteers on tech crews at numerous community theatres.

---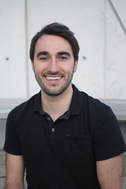 Tyler Catanella is a proud graduate of the Theatre Education and Acting departments at Emerson College, where he now teaches dance composition and improvisation as an Adjunct Professor within the Performing Arts department. Tyler is a past recipient of the Emerging Choreographer's Award from Green Street Studios, where his works "Nostalgia" and "Every Thursday Night" have been produced and performed. His work has also been shown at Jose Mateo's Dance for World Community, the Charles Mosesian Center for the Arts, Third Life Choreographer's Series, Grant Jacoby & Dancers, ArtBeat, NACHMO Boston, Calamity Dance Co., Luminarium Dance Company's annual 24-Hour ChoreoFest, and the Cambridge Multicultural Arts Center. Tyler, using the name Peace Pilgrim, takes part in composing, producing and performing original music in collaboration with musicians internationally, especially for dance performance. He currently directs, choreographs and teaches several K-12 acting and movement programs with Watertown Children's Theatre, and has lead teaching residencies throughout the greater Boston area with support from Playhouse Education and the Massachusetts Cultural Council STAR Grants.
---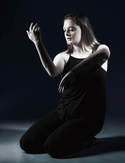 Cayley Dorr is a dance artist and teacher based in Providence, RI. In 2017, she earned her BA Summa Cum Laude in Dance/Performance Studies and Educational Studies from Roger Williams University, where she received the Kelli Wicke Davis Excellence in Dance Award. While pursuing her undergraduate degree, she also spent three months deepening her physical research of contemporary dance forms, improvisation, and physical theatre in London, UK. She is currently a member of Boston-based Sasso & Company, and her original work has been presented at the Third Life Choreographer Series, Built on Stilts Festival and Tiny Dances at the Zeiterion Theatre.
---

Mykayla Marcelino is an emerging Boston-based choreographer. She is currently a member of OnStage Dance Company in Malden, MA. Mykayla has also choreographed two pieces for OnStage Dance Company. In the past, she has choreographed numerous pieces for the Lesley University Dance Team and Ocean State Dance Academy. Mykayla also choreographed the dance numbers in Lesley University's musical production of "The Big One."

---

Liz Powers is a contemporary movement artist, choreographer, and teacher currently based in Providence, RI. She recently received her B.A. in Dance and Performance Studies with a double major in Psychology from Roger Williams University. She is currently working as a teaching artist through the Turnaround Teaching Artist Program in Providence and is actively performing and choreographing in and around the Providence and Boston communities. Liz has performed original work at Built on Stilts dance festival and AS220's Dance Works in Process as well as performing at the OnStage Session IV Residency Showcase and with 40 Steps Dance Company in 12 Dancers Dancing. Currently Liz is setting a piece on Monkeyhouse for NACHMO Boston to be performed at the final showing in February.

---

Jo Troll, a trans dancer, has recently finished their Graduate Diploma in Dance Studies at Trinity Laban Conservatoire of Music and Dance. Originally an Irish dancer, Jo explores the intersection between different forms of percussive and contemporary dance. They work to find an unapologetically queer, honest, and accessible means to present their work while engaging with challenging questions of tradition and identity in contemporary dance spaces.


---
---
Past Residency Choreographers

Session IV: Fall 2017:
Dana Alsamsam (Modern)
Angela Cole (Modern)
Eliza Kenney (Contemporary)
Katie Logan (Contemporary)


Session III: Spring 2017:
Alexander Davis (Modern/Improv/Ballet)
Jimika Mehta (Bollywood)
Alexandria Nunweiler (Modern/Ballet)
Ellen Oliver and Dylan Eldredge Fitzwater (Modern)
Alysen Vilhena (Disco)


Session II: Summer 2016:
Evolve Dynamicz (Contemporary)
Sarai Warsoff (Modern)

Session I: Spring 2016:
Heather Brown (Contemporary/Modern)
​Anne Whitehead (Tap)
Sarah Craver (Modern/Ballet)​

Submit Residency Application Fee ($10.00)
​Via Paypal (donate link below) or Venmo@OnStage